So I won't be finishing up those drafts. I know I'm taunting you guys. I sort of spent last night watching the latest episode of True Blood (Erik the Viking, sigh, how unoriginal but isn't he easy on the eyes). Then I got caught up catching up with Being Human and the first instalment of The Killing. Hence this morning, I felt absolutely murderous. The sight of the cartoons of
2chicks egg white
in fridge just highlighted my sense of failure. So I made these.
I like them knobbly. I simply warmed up the egg white & sugar solution in a double boiler and then got it whisking in my table top mixer. I can't remember for how long but I usually wait for it to get glossy and stiff, but not dry (this, dear readers, is a rule I apply to MANY MANY things).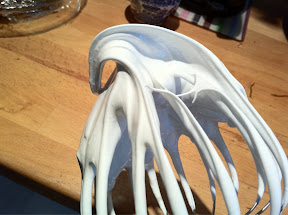 As you can see, the inside is marshmallowy, we like them that way as we eat them straight up.
Chewy and soft, none of that hollow crunchy type that you buy from supermarkets. So what have you been baking today, dear Snorters? - Posted using BlogPress from my iPad